A guy in his 50s a few benches to my right was thumbing .40 cal cartridges into a pistol magazine.
He had arrived when I was about to box up my gear and head home. But, I had seven rounds of .22 leftover, so instead of letting them roll around in my gun box, I loaded them into a magazine. I already had 10 shots in my paper target at 25 yards, so instead of causing problems with scoring that target, I decided to find something else to shoot at.
I rotated slightly to my right, raised my right arm, and lined up my iron sights on a 12-inch diameter steel disc about 125 yards away. It was painted yellow. As I steadied my breath, I raised my Ruger Mk II pistol a little to account for the bullet's drop at this longer distance, and let off the first shot.
I was pleased to hear the distant ding of the hit against the steel plate. I released the remaining six shots and they each dinged off the plate. I was pleased, but, frankly, surprised. That was a fair dose of luck.
I packed up my guns, and let the the older man know that the line was safe for him to go down range.
I could tell he was curious where the dinging noises had come from. He was scanning the range right in front of us, but there was nothing metallic there.
"So, what were you shooting at just now?" he asked.
"See that yellow disc out there?" I pointed to the steel plate hanging at the 100 yard line.
He was incredulous, except that he had witnessed it. I felt fortunate that I was packing up and wouldn't be pressured to repeat it, but, hey, why let on.
It turned out that he was a federal agent from downstate on vacation. I was pleased that a federal cop from downstate would have an appreciation for how a kid from the Upper Peninsula can handle a pistol. Strange vanities.
That was about twelve years ago, and while I don't shoot as much now as I did then, I still appreciate the look of a good sight picture.
Aiming is one of the fundamentals of good shooting, right? But there is actually a lot of complexity to talking about it. There are many different kinds of sights, and some are electronic like red-dot scopes or laser sights. Those have the benefit of being completely obvious on how to use. Put the dot on the spot you want your shot to land. That's all there is to it.
But for those without a dot, knowing your iron sights is pretty crucial.
I shot a dot-scope for a few years, but gave that up and went back to open sights on my pistols. I like them, and I like that it takes more practice and discipline to use them.
So, here's what I know about shooting with iron sights.
The fundamentals are that you have a front sight, probably a block or a post, that makes an "I" shape and a notched rear sight that makes a "U" shape. You put the front sight right in the middle of the notch of the rear sight. The tops of the front and rear sights should line up perfectly, and the front sight should have the same amount of space within the rear sights to the left and right.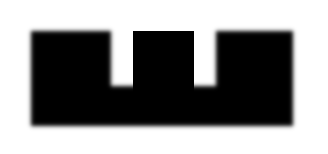 When you aim, you focus all your attention on the front sight, observing it's alignment with the rear sight. The rear sight should be slightly blurred, but the front sight should be crystal clear. Study it. Meditate upon it. Let everything else vanish.
The front sight on my Clark .45 has a slight ding on the top right corner, and when the sun shines at a certain angle, it stands out to me. These are things that you only appreciate if you find yourself studying the geometry of a front sight for long enough. It's a good thing.
Please note that I have not spoken about the target. If you find yourself looking at the target, you are probably not going to fire a good shot. This is the counter-intuitive part about aiming: in order to hit your target, you must not look at it. It is the front sight and its alignment with the rear sights that should have your attention.
Of course, as you acquire your sight picture, you will probably need to glance at the target in order to line up the sights in the first place, but once you have that, forget it and focus on the front sight.
Focus on the front sight.
Update: May 3, 2010
Here's a nice image of a variety of types of open sights with a legend. This image does not show the rear sights and target blurred like they would be to your eye, but it's still a nice resource.
Update: January 10, 2014
The illustration and ideas in this blog post have been included, with permission, on page 59 in a recently published book by Andrew Smotzer, Guns for Personal and Home Protection. Thanks Andy, and congratulations on the new book!
Update: October 21, 2016
This 12-minute video from Chris Sajnog is perhaps the best thing you can watch to understand what it means to focus on the front sight.