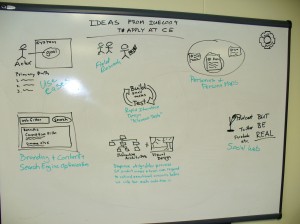 Now comes the after-conference exhalation. (And I just attended! Imagine the organizers.)
My employer, Covenant Eyes, sent a small crew of people to the conference…8 of us in all. For all but me, it was the first time at any UX conference, and I think we all learned quite a bit.
So now the question becomes, what did we learn from all these tutorials and sessions, what ideas will help us do better work, and how can we make sure to build these ideas into our daily work.
I understand that most of us will gather on Monday to start hashing out those questions, but in the meantime I thought I'd share my initial map of ideas, recently jotted onto my whiteboard. Click the photo for a larger, more readable version.
Concepts on the board:
Use Cases
Field Research
Personas & Persona Maps
Rapid Iterative Design, "Kleenex Tests"
Branding+Content+Search Engine Optimization
Social Web (Podcasts, Twitter, Facebook, etc.) But Be Real!