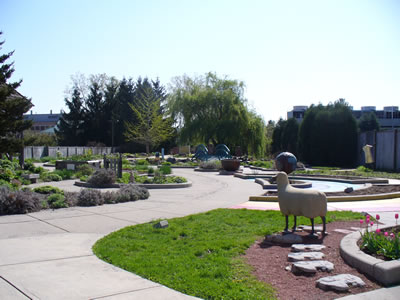 On Sunday morning, Lila, Eva and I visited the 4-H Children's Garden at MSU. It was a beautiful day, and there were a few other small groups of people strolling around.
In the back corner of the garden, obscured by the large tree in this photo, there is a play train. On the other side of the wooden wall, to the right in the photo, there are train tracks. When trains came by, the girls clambered up to the roof of the play train and watched the real trains roar by.
The second train only had a dozen or so cars, and it was going very fast. Eva crouched defensively and covered her ears, mouth and eyes open in awe when it finally sped by, horn blaring.