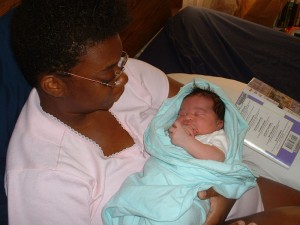 Once labor started in earnest, it went fast. Two hours, maybe.
Chey was in the bathtub, at home, breathing hard. We called the midwives, and while Gera was talking with Chey on the phone, I was talking with Chey's mother, Lahine, about coming over to stay and make sure Lila would be alright.
That was at 3:30.
By 3:55 we were in the van driving to the Greenhouse Birth Center. It is normally a half hour drive. Chey was in hard labor with the contractions coming one after another, with less than a minute, sometimes less than half a minute break between them.
We were about a third of the way there when she said she had to push. As I gained speed down Saginaw towards East Lansing, I told her to try panting like they suggested in class. She tried that and fought back pushing for a little while.
We were now barreling through East Lansing towards Okemos. I stopped at the first red light, then drove through it. That was the last red I stopped for. From that point on I probably averaged 60+ miles per hour, peaking at around 80 heading into Okemos.
Thankfully, it was 4 in the morning so there was almost no traffic. And no cops.
Chey had to give in to the need to push, and I kept telling her to not push, but to pant. We were both praying to God to get us through this.
As we took the corner from Marsh Road to Keller Road towards the Birth Center, Chey was holding herself aloft on the arm rests, saying, "The head is out!"
We whipped into the Birth Center parking lot, and I scanned for activity, for parked cars, for any sign that a midwife was around. There was nothing.
We parked fast. I looked across at Chey and saw her strained look as she was holding herself up. Then I saw the face of our baby, hanging upside down underneath her. It was pallid and gray. The image is scored into my retinas.
As soon as my eyes landed on the face, my body was heading out the driver's side door. I bolted across and opened the passenger door. My right hand went to support the baby's head and neck, and then Chey pushed again. The baby squirmed out immediately into my left hand, my right still cupped behind the head.
It was 4:10 a.m.
The baby's arms moved. The umbilical cord was not in the way of anything. Chey slowly lowered herself to the seat, eyes searching the baby. We said something. I do not know what.
Chey was reaching out her hands, the baby squawked, and I placed the baby onto Chey's belly and chest. Chey covered her with a dry part of her robe, and I got a towel from the back seat to cover our child.
I shut the passenger side door to keep out the cold air. I walked around to the driver's side, and got in, examing the two.
I was asking if Chey was okay, if the baby was okay. Chey said, "Yes, I can feel her breathing. She's fine."
Then I saw car lights in the mirror. I got out and shut the door. Gera, the midwife, got out of her car and asked how things were going. I said, "There is a baby here."
Her eyes popped, and she said, "What?!" I repeated it, and gestured into the van.
She gasped and jumped into the driver's side seat, reaching over, looking into the towel. It was good that she was there, and knew what to do. She said to Chey, "Oh, she looks healthy. She's so comfy, she could still be in the womb!" I was relieved to hear this.
Eva Marie is fine. She is 8 pounds 4 ounces and 20 inches long.