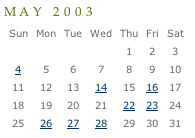 As I'm slowly working through this new web page, I'm looking at each piece of the page. Right now I'm looking at the calendar.
It's kinda cool as it gives a visual representation of what days have entries. On the other hand, the Recent Entries right below it seem more informative to me.
My rule of thumb it to get rid of page elements that don't add significant value for web visitors.
So, my question to you is, does this calendar add to your value or not? Vote by commenting on this entry. Your answers will determine whether the calendar stays or goes.