UX Magazine published Getting More From Analysis by Jared Lewandowski and John Dilworth on Dec 16, 2010. The authors provide a  summary of analysis as part of three design activities:
Analysis
Synthesis
Evaluation
Diagramming these activities
They also provide some models for conceiving of these three activities, from linear to finally advising on a traditional equally-weighted 3-circle Venn diagram.
I like the thinking, and the clear reclassifying of design as including all of these activities, as opposed to only synthesis. However, their Venn diagram leaves direction out of the picture. I like this approach better.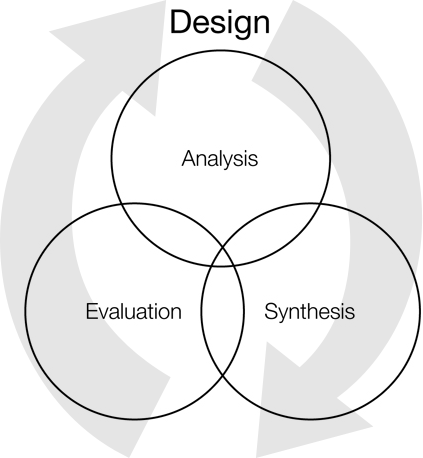 This model simply adds the arrows to what Lewandowski and Dilworth provided. It's simple, but serves to organize the concepts.
Working together isn't always simple
In addition, the authors recommend involving analysts in synthesis activities, and designers and developers in analysis activities. This, I agree, is good advice, but they didn't provide any techniques to help you actually pull this off.
Analysis, synthesis, and evaluation each require different types of thinking, and a person specialized in, say, analysis may end up stepping on the toes of the people specialized in synthesis. The result may be a stunted synthesis activity, shut down because an analyst broke down the problem again before a designer or developer had a real chance to synthesize the ideas into various solutions.
To avoid these types of problems, creating intentional design (be they analysis, synthesis, or evaluation) sessions is important.
Setting up design facilitation sessions
I've been listening lately to some lectures by Professor Michael Roberto, and in them he's advised what he calls the 4-Cs of encouraging real ideas in a debate. Roberto is focused on strategic decision making, but I think we can learn from this advice and apply similar thinking to how to set up design facilitation sessions.
Composition – of group, who should be invited
Context – Atmosphere, shared norms, ground rules, location
Communication – How will we discuss and exchange views? E.g., subgroups, devil's advocates.
Control the process – Will I as leader be in the room? Do I ask for a packaged solution or do I ask to see a debate.
You might think this is over-thinking it all. Just put the people in the same room and have them discuss the design, and good things should happen right? Maybe. But why gamble? Even 10 minutes of planning a design session based on these 4-Cs could turn a waste of time into a breakthrough design session.