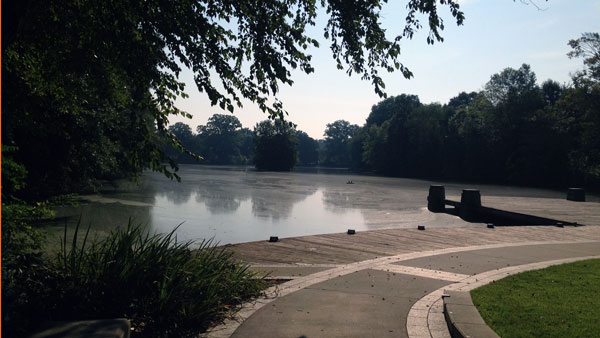 I'm at the UX STRAT conference in Atlanta, Georgia, having just finished a couple of half-day workshops. Here are a few observations.
From what I overheard, attendees mostly have job titles including "manager," "director," "lead," and "senior." Oh, and owners of agencies/consulting firms.
In spite of that (cough), like most UX people, they are interesting to talk with and open about sharing their own knowledge.
Numerous people handed me business cards, expecting me to reciprocate. I had to explain that I didn't like the ones I had so I threw them away, but the newly designed cards haven't arrived yet. (I am not odd about this, dang it!)
More attendees than I expected are from overseas. So far I've heard Netherlands, UK, Finland, and Mexico.
Nice lunch and service. For instance, just as the woman sitting to my left realized she sat down without a fork for her dessert plate, a server was at her side with a new napkin and a fork. It was as though he was watching out for her. That's better service than I expect at a conference luncheon.
Lovely options for meals around here.
Morning Workshop: Beyond Business Basics with Nathan Shedroff
Well, I have more copious notes, but I'll hit a few ideas here. First, Nathan did a wonderful job with this information-packed session. I honestly felt at the end of this session that I had enough value to make the whole conference fee ($949) worth it. That's saying something.
I think part of why it was so valuable to me is that I am actually able to apply a whole lot of what he shared, given the position I'm in. Also, much of it I've already done or experienced, but his perspective helped me think about my experiences as an executive, a researcher, and a designer.
So, Nathan roughly had a couple major areas of the presentation:What design can teach business and what business can teach design. Along the way he shared a number of tools for getting design research insights baked into strategic planning. As he explained the tools and frameworks, some were work I've already done, and others made me want to slap my forehead and wish for some do-overs over the past few weeks. That's good.
So, in regard to what design can teach business, some of the key items he listed were being okay with ambiguity, reframing, and prototyping, and the idea that some of the greatest things about experience are hard to describe and measure, but that doesn't mean they aren't valuable.
He took some pot shots at the MVP (minimum viable product) suggesting that consumers don't live in a world populated by MVP services, so releasing one isn't going to help you be competitive. A generality of course, but I agree. The problem with MVP is that it is actually so rarely truly viable. And when you release an MVP, you then have the work of convincing the people you work with to go back and change (that's really hard and often fails, in case you haven't yet experienced that).
Shedroff didn't really provide any answers to that problem, although the next speaker did. But that's for later.
In regard to what can business teach design, here are some notes.
Numbers are important, not scary. You can prototype a business proposition using an Excel spreadsheet. Numbers are a design tool.
Data informs creativity, but doesn't drive it. It isn't the whole story, and it can't tell you what to do.
He mentioned three levels of strategy: Corporate Strategy, Market Strategy, Product Strategy.
A quote from Charles Eames: "Design is a plan for action." Doesn't that sound like strategy too? Is design also strategy?
He provided an interesting example of corporate strategy from, who else, Apple. Apple had already produced the iPod and was making bank. Then they make an observation: people like to have only three things in their pockets: keys, wallet, and other. The market already had numerous options for "other," including iPods and mobile phones, and other business indicators were showing that phones were going to win. This then predicted that the iPod was going to drop in popularity. So what did Apple do? They partnered with Motorola and produced the co-branded RockR mobile phone which had iTunes on it. Epic fail. So lacking a better solution Apple decided they had to get into the phone business, and now we (and they) have the iPhone.
Shedroff did a great job of showing that most corporate strategy is done without perspective gleaned from design research, and, you know what, I have to say that I have failed at this area, and I honestly have no good excuse for it. (This is one of those slap my forehead moments.) It isn't to say that design research has been completely absent, because of course it hasn't. I'm a UX person after all. But it really hasn't shaped strategy like it ought to.
Nathan provided a model for how to do this using frameworks that are pretty familiar to business people. At the core of it is the notion of getting to the psychographics of the market considering environmental issues of:
customers needs and desires
political/legal
technology
economic
industry-specific
In the user experience methods for design research, we already have the know-how to find actual real answers to these issues.
Another interesting point, total value is composed of five values:
Functional
Financial
Emotional
Identity
Meaningful
The first two are largely quantitative and the other three are largely qualitative. Since business models typically include the notion of "value proposition," and UX ought to already have a decent handle on items 1, 3, 4, and 5, we sure ought to provide some insight to the business model.
Incidentally, some of these ideas reminded me of "Emotional Design" by Donald Norman as he describes layers of visceral, behavioral, and reflective design.
Nathan spoke of a set of 15 meanings (e.g., trust, security, accomplishment) and demonstrated a neat interview technique (I think he called it "laddering") to uncover a sense of what someone's more important meanings are. As he did this, I realized that I have instinctively done this with people before in interviews, although not as quickly as he did, and without having a list of meanings to compare against.
Nathan suggested that a technique for this would be to uncover the most important aspects of meaning for customers, company, team, and competition as a way to audit the business and inform strategy.
Redesigning Business Culture and Thinking Around the Customer with Tim Loo
Now that I've written more than I anticipated about Nathan's session, I'll try to write less about Tim's. (Sorry Tim! Or maybe that's good…)
Tim is a wonderful presenter, engaging and promoting good discussions while making his points. He changed his plan for the workshop in light of how the interactions with the group were going, and I think he probably made the right call.
So, his definition for UX Strategy? This: Long term vision, roadmap, and KPIs to align every customer touch-point with your brand position and business strategy.
Now, that sounds incredibly boring, right? Well, it wasn't. He demonstrated numerous examples of how to communicate design strategy and align stakeholders to them.
Some notes I took on this cover tactics like:
video of a customer story, written, storyboarded, and produced based on insights from design research
holistic experience maps (service design blueprint or perhaps customer journey map)
research insights report
workshopping to process results and get stakeholders working together
I asked myself, do we have experience design principles for our offerings, and concluded that we do not, but ought to. In here and in the future customer stories (next paragraph) are a bit of the key to defining what "good" means for a product, as opposed to the MVP notion. (This concept of "good" made me think of performance continuums as explained by Dan Klyn from The Understanding Group.)
Tim also shared examples of future customer stories as a way of selling the design principles and as a way of helping to create and drive a product roadmap. This is basically just a storyboard of key experience points and outcomes.
Generally, a lot of his talk was around the notion of using stories and collaboration to get stakeholders to share customer perspectives, which will then shape their thinking when it comes to strategy.
Thank you Tim for a wonderful, rich talk!
Looking forward to the rest of the conference
Really, this is shaping up to be a conference that will be well worth the time. And Atlanta is great. I'm looking forward to connecting with Dan Klyn sometime in the next couple of days, which is funny since we're both from Michigan and somehow it takes a conference in Atlanta for that to happen. Clearly I need to adjust my priorities!
Twitter Feed of #uxstrat