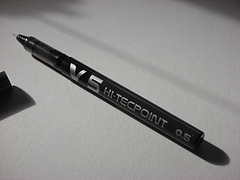 Pen-less. It's 9:30 in the evening, and I need to write out some thoughts (about a split-complementary color set).
At work last Friday, the pen that I've had with me for some months now finally gave up its last ink. It was a Pilot Precise V5, black.
My habit has been to have that pen in my left front pants pocket, reliably at hand. I guarded it, making sure to have it back if I let a colleague or a daughter use it for a moment. I gave other pens like it away, but kept that one.
Of course I have other pens. Bic ball-point pens: the kind you get in bulk in the plastic bags during back-to-school sales. I hate those pens. They fail so often, and you have to drag the ink out of them, scraping across paper. Scribble in circles first just to get them warmed up. Lazy bastards. Then you have to draw across your strokes again, filling in ink on the empty indentations of your first pass at writing.
I'm irritated at myself for getting into this pen-less position. Luckily, I have Plan B: pencils and a sharpener.