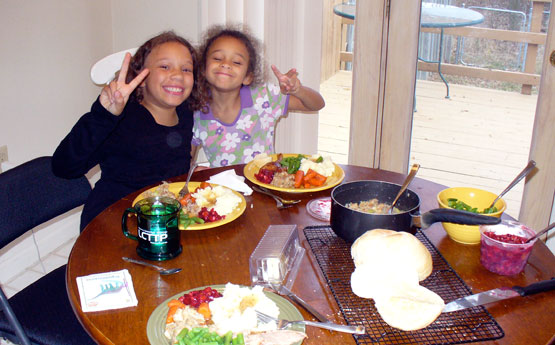 As mentioned last post, I tried a duck for Thanksgiving. Lila summed it up with "It's okay Dad, but it's not appealing."
I could not fit the bird into the crock pot, so my Plan A was foiled. Instead I roasted it in the oven. I applied poultry seasoning and tucked onion and apple chunks inside before putting it into the oven.
What about the fat? The infamous problem with duck is the layer of fat under the skin of the duck. I poked holes in the skin so the fat would drain out during roasting. This certainly helped and the skin was actually very nice, golden and crispy. There were still some unappealing sections of fat, although they were easy to separate from the meat.
I've never had duck before, and the taste and texture was unexpected. It wasn't bad, and the overall dinner was great.