Ok i have stolen this picture. But it is a photo of two of my favorite people in the whole world and I think they look CUTE!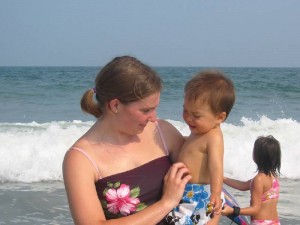 That is Cole Hekki (he's the little one) and Cole Provencal (She's slightly larger). My two favorite Coles.
I stole that picture from Noel. I'm impressed that I actually knew how to do that! Yeah for Chey.
Anyway, Eva's birthday (and Cole the lesser) is next Sat and I think we will take all the seats out of the van and have cupcakes in the back. on a tarp. Of course. Can't get the van messy.
One other funny thing. someday long ago I wrote a post with an ironic title; or so I thought.
Apparently, this particular post and title are drawing search engine hits as a result of the title not the topic. (it's World Wide Wrestling vs. Anne Lamott. . .Sunday, Sunday, Sunday!!!!)